Mary Jane Slippers
I just finished my first Christmas gift for the year! (I won't tell you who they are for, for obvious reasons. Cross your fingers and hope it's you!)
If you know how to knit and have a little time, I highly recommend making yourself a pair using
this free pattern
from
knitwhimsies.blogspot.com
. I just added a couple of buttons and lazy daisy stitches to jazz them up, but they are adorable without as seen below in the picture from knitwhimsies.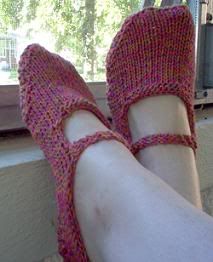 I also highly recommend
knittinghelp.com
for any knitting concerns you may have. They have the most helpful videos.
Now for something not so adorable. This is me bending in half to take the picture shown above. You'd think a girl would learn to set a camera timer once in a while or at least take a shower before dinner time.